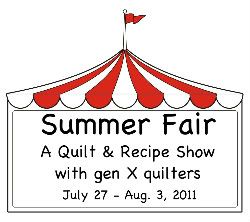 I'm joining the Summer Fair fun and sharing a my most recent quilt and a yummy recipe.
Nothing quite says small county fair to me like the combination of red, white and blue. I don't usually go for patriotic quilts but I created this mini for a friend who does. I used this
technique
and had a good time with it, but I'm glad it was just a mini, I don't think I could do anything larger- all quilting individual squares. The final quilt measured 11.5" square.
Source: moichizen.exblog.jp via Nancy on Pinterest.
I got this recipe from my sister and I'm not really sure where she got it, but it is fabulous.
(I forgot to take a picture, hopefully this darling bowl of strawberries will suffice
.)
Berry Custard
1/4 cup (1/2 stick) unsalted butter
3/4 c whole milk
3 eggs
1/2 c sugar
1/2 c flour
1/4 t. salt
1/2 t. vanilla
2 c. raspberries or blueberries or whatever! add more if you want, but if you add too much it might bubble over.
1. Preheat oven to 400. in oven melt better in a 9 inch round pie plate. about 6 minutes.
2. In a blender or with a mixer combine milk, eggs, sugar, flour, salt and vanilla. While the blender is going slowly add the melted butter mixture.
3. Evenly distribute the berries evenly in pie plate and pour the batter over the top. Sprinkle with additional sugar. Bake for 20-25 minutes or until slightly puffed and set in the middle. Then broil for about 2 minutes... watch it cause it burns easy. Serve warm or cold, with whipping cream or not. Anyway you eat this will be yummy.